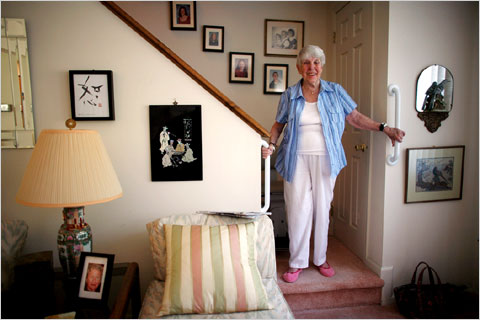 Living alone can be challenging. Yes, it is nice to feel independent and self-sufficient, but it is hard to feel independent and self-sufficient when you worry or feel scared.
Many elderly men and women prefer to live alone as long as possible, even if they have medical conditions. A large portion of those men and women, though, also feel unsafe in their house by themselves. Here are some ways to make their home more secure, so that they can feel safer as they live independently.
Prevent falls – One of the worst things that can happen to a senior who lives alone is falling and not being able to get back up. They may lie on the floor for hours or even days, waiting for someone to come find them. Luckily, many falls can be prevented with a bit of foresight. Make sure that all rugs or carpets in your loved one's house are smooth, with no lumps or folds in them, and that the edges are taped down to prevent sliding or tripping. Keep walkways clear of junk, and make sure that there are handrails next to any set of stairs, as well as near the tub or shower so that your loved one can support themselves.
Consider an alarm system – Alarm systems can be a great way to make anyone feel more secure. Even just having a sign for an alarm company in your front yard can prevent a burglar from targeting your house, and just knowing that they have an alarm that will sound and alert the authorities if there is a break-in can help your loved one sleep much easier.
Consider getting a PERS (Personal Emergency Response System) PERS can be used to give your loved one a sense of security. Many options are available; pendulant and wrist bands are the most popular. If a loved one needs help at home, they can push a button and be connected to an emergency response specialist or a nearby relative. With new technology, many devices also have a sensor in them to detect falls and will notify the emergency response immediately.
Consider getting a dog – Not every dog is a guard dog, but every dog sounds mean to a stranger when they bark! If your loved one lives alone and is still capable of taking care of a pet, they might really enjoy having a dog for many reasons. Not only would the dog keep them company, but the dog could help them to feel safer at home alone, because it could offer some protection from anyone who might try to harm them.
Consider home care – If your loved one is having other issues, like falling often or forgetting to take their medications, their safety might not just depend on the house. If you are concerned that your loved one isn't taking care of themselves well enough on their own, you might consider hiring a home care aide to help them with their daily tasks. The home care aide can help them cook and clean, and they can be there to make sure that they are safe during the day.
If you or an aging loved-one are considering in home care, please contact the caring staff at CareOne Senior Care. Providing Home Care in Southeast Michigan. Call us Today (248) 308 2777