Southeast Michigan's Choice for In-Home Care Services Provided
---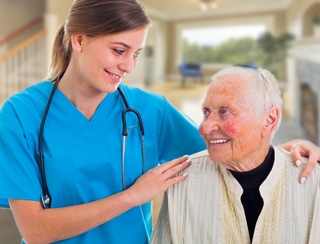 CareOne Senior Care in Novi is devoted to helping seniors, the disabled, accident recovery and post-surgical patients live a healthy, happy life while maintaining their independence safely at home.
Our trustworthy and compassionate caregivers can provide in-home assistance for as little as one hour to 24/7 or live-in care.
Premier Home Care Agency in Novi, Michigan
As part of our commitment to providing high-quality care, we provide a free initial assessment where we will assess you or your loved one's needs, desires and medical conditions. We will fully explain our services and answer any questions that you may have. This helps us select the ideal caregiver that will not only provide the professional care you need but be a welcome presence in your home.
Some of the more common activities we assist with are:
Companionship Care
Medication Management
Meal Preparation and Planning
Bathing and Personal Care
Incidental Transportation
Errands and Shopping
Dementia, Alzheimer's, and ALS Care
Stroke Care
Light Housekeeping
24/7 and Live-In Care
Specialized Care for Wounds, P.E.G. Feeding Tubes, and Catheters
Financial Assistance with Long-Term Insurance
In-Home Care for Seniors
Companion Care and Personal Care Services
At CareOne, we believe that all individuals can benefit from simple, stimulating, and fun activities, either physical or mental. Activities that are structured to improve the individual's overall functioning, such as memory games or physical movement exercises, are an effective tool for helping to improve and maintain functions such as memory, mood, and mobility. Caregiving services are provided by our well-trained staff. They'll incorporate strategies including companionship care services when they think their clients will benefit and enjoy these life-enhancing activities.
Memory Care for Dementia and Alzheimer's
CareOne Senior Care specializes in providing professional home care services for Alzheimer's patients and their families. We are uniquely qualified and provide special training to not only better understand the disease, but to also learn skills to best manage the care of Alzheimer's and dementia clients. In addition, our certified dementia practitioner will oversee the professional caregiver team, assist in managing the customized care plan and make sure the best practices are implemented.
Rehabilitation Care for Accident and Surgery Recovery
We understand the importance of having in-home care assistance with routine activities and extra assistance while recovering from an accident. It can speed recovery and help you and your family cope until you are feeling better.
Most patients need help in the days following surgery, and at least some ongoing assistance until they are fully recovered to resume their normal daily routines. Undergoing surgery of any kind requires a recovery period that includes rest and a routine that helps the patient return to normal activity as soon as possible.
Specialized Care Including Parkinson's Disease and In-Home Nursing Support
The first Activities of Daily Living (ADLs) affected by Parkinson's Disease typically include the ability to dress, walk or get in and out of bed. While treatment for Parkinson's disease can provide dramatic relief from symptoms, later stages may require additional assistance at home. CareOne Senior Care has a certified Parkinson's disease team leader on staff to help support the care team and family of a Parkinson's client living independently in their own home.
CareOne also provides individuals with disabilities or chronic illness living assistance services. Some of these conditions include:
ALS
Multiple Sclerosis
Muscular Dystrophy
Parkinson's
Stroke Complications
Ataxia
Cerebral Palsy
Spina Bifida
Traumatic Brain Injury
Other neurological, physical, and cognitive conditions
CareOne Senior Care offers a wide range of in-home care services ranging from basic companion level care to highly skilled in-home nursing and medical care. If you or a loved one has had an auto accident, fall, or injury on the job, or is a senior in need of advanced care, having a registered nurse on your care team can be very beneficial. Specialty care by a registered nurse can either be in the form of care management or services provided by the RN. Our transition care managers will design a care plan specific to you and your needs.
Hospice Assistance and Respite Care for Family Caregivers
Hospice is an incredibly personal experience. It's all about love and support, as well as making someone comfortable. CareOne Senior Care provides hospice assistance and works closely with the hospice provider of your choice. Our certified End of Life team leader and professional caregivers will become part of your hospice care team, making sure that your loved one receives the absolute best care and assistance possible.
We Keep Our Clients, Family Members, and Staff Connected
Living at a distance from a senior loved one makes it challenging to be a part of his or her in-home care plan. That's why we use innovative home care technology that helps bridge the gap between remote family members and their loved ones.
"The Family Room" brings our clients, clients' family, and caregivers together to improve care and communication. This technology increases transparency between the client and caregiver, improving the care and coordination of services for the client. Your family can log in 24/7 to view future schedules, care logs, completed tasks, and invoices.