Accident Recovery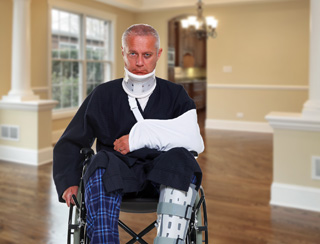 In-Home Care for Accidental Recovery in Southeast Michigan
CareOne Senior Care understands the importance of having home care assistance with routine activities and extra support while recovering from an accident. It can speed recovery and help you and your family cope until you are feeling better.
Part of recovery from any kind of trauma is the ability to fully rest and recover. Many of us have family and other obligations that need to be handled, even when we are ill. Life's commitments and responsibilities don't stop for these situations, which can make things even more stressful. It's important to let go of as much as you can and let someone else take care of things in order to allow you to get the rest you need.
In-home care assistance can be a valuable asset during this time of recovery. Getting the help you need at home allows you or your loved one to rest and experience a speedier, stress-free recovery at home.
Schedule Your FREE Assessment Today!
---
In-Home Accident Care Assistance
CareOne Senior Care provides in-home care assistance for individuals recovering from accidents and injuries.
Types of Accidents and Injuries Include:
Auto Accidents
Slips and Falls
Work-Related Injuries
Hip or Other Fractures
Post-Hospitalization Recovery
Wheelchair and Loss of Mobility Care
Bed-Rest Recovery Care
Your Home Care Assistants
At CareOne Senior Care, our caregivers are highly skilled, trained and ready to provide a wide range of services to individuals in recovery. The CareOne Team consists of Certified Nursing Assistants, Home Health Aides and Nurses, if needed. Whether the individual is mobile or confined to bed, our caregivers can help with personal care, housekeeping and many other duties and responsibilities that require attention.
Types of Home Care Services:
Meal preparation
Medication reminders
Bathing and personal care
Changing bed linens
Preparing ice packs
Mobility assistance
Laundry and dishes
Light house keeping
Transportation to/from doctor's office
Pet care
Errands and prescription pick up
24-hour care, if needed
And much more!
Our flexible staff can fill in for regular caregivers, be the primary caregiver or just provide occasional assistance to ease the burden for the person recovering from accident or injury. We will customize a plan that is exactly what you want or need.
---
Senior Assistance After a Fall or Accident
Seniors may find that any loss of mobility, due to a fall or other accident, can have long-term effects on health and well-being. Home visits from a compassionate professional caregiver can be extremely beneficial and help promote safety, as well as a speedy recovery. Caregivers can help make sure medications are taken on the prescribed schedule, provide assistance with therapy, exercises and much more. We will make sure regular nourishing meals and fluids are provided and assist with personal grooming, bathing, toileting and mobility. We also provide companionship to help the senior better cope with isolation or loss of mobility, giving them a better chance to improve and re-engage with their normal activities.
---
Workers' Compensation Recovery
CareOne Senior Care's goal in working with employees injured on the job is ensuring superior care and getting them healthy and back to work as quickly as possible. A case manager will complete an initial assessment of the employee and a CareOne Team will be chosen based on the individual needs of the injured person. Communication with the external case manager or insurance company is done on a weekly basis. We can manage the complete case with our team of professionals.
---
Contact us today to schedule a free in-home assessment and learn more about how we can help you or your loved one maintain their independence at home.